Poitín or Poteen is an Irish liquor, often called "moonshine". The term "poítin" is a diminutive of the word pota, meaning "pot" as Poitín was traditionally distilled in a small pot. Poitín is traditionally made from malted barley, though it can also be made from potatoes.
Worm & Stíl Cap donated by Sean Healy, Ballycastle. Barrel donated by Charlie Bourke, Rathball, Killala.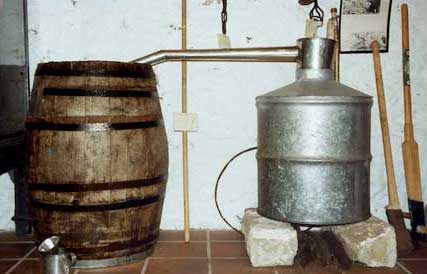 Find out more about Enniscoe Museum
Enniscoe Museum
Mayo North Heritage Centre
Castlehill
Ballina
+353 (0) 96 31809
northmayo@gmail.com
www.northmayogenealogy.com
Sneak Peek
Some interesting items can be viewed here
You may also be interested in...