Toffee-coloured, almost square piece of coarse weave material with two narrow bands which, when tied at the back, secure the apron in place. While the top 12'' is plain, there is a decorative, hand-worked overlay on the bottom 8'' which doubles as a pocket that was useful for containing items such as clothes pegs, for instance, when putting out the washing.
Aprons were designed to protect the housewife's clothing while doing housework.
This is an example of some of the work carried on by the local ICA in reinventing and finding a new use for something as humble as the sacking that originally contained 1 cwt of potatoes, or indeed flour bags. It was also representative of the frugality of the housewife who threw nothing away. This apron was made from a potato sack, its previous existence enhanced and disguised by the colourful needlework at the bottom, which effectively transformed it into an attractive and functional item of clothing.
This apron is the work of the late Mrs. Moran, Thomas St., Kiltimagh, when she was a member of the local ICA in 1961 and was donated by Mrs Moran in 2002.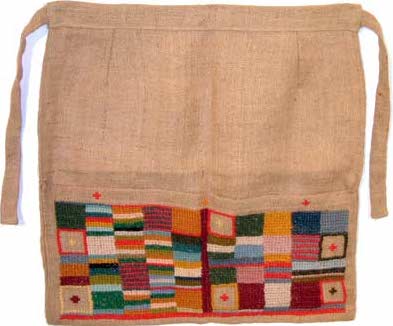 Find out more about Kiltimagh Railway Museum
Kiltimagh Railway Museum
Kiltimagh
County Mayo
+ 353 (0)86 101 1388
solanb@gofree.indigo.ie
Sneak Peek
Some interesting items can be viewed here
You may also be interested in...