Black pewter Gas Meter, with round tubular shafts at either end, through which the gas passed through and was measured. 13" x 81/2", with shafts raising total height to 15".
Relict of Kiltimagh town Gas system, dating from 1910 until replaced by Electricity Supply Board in 1940s. Cost based on amount of gas used, which was measured by this meter.
Used by the Killackey family, James's St., Kiltimagh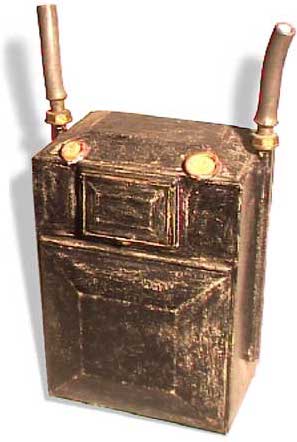 Find out more about Kiltimagh Railway Museum
Kiltimagh Railway Museum
Kiltimagh
County Mayo
+ 353 (0)86 101 1388
solanb@gofree.indigo.ie
Sneak Peek
Some interesting items can be viewed here
You may also be interested in...