School Clock - Clog Scoile
Octagonal teak frame, 18" x16", with white, circular clock face inset, with Roman numerals, from 1 to V1 only, the other numbers indicated by strokes. A brass pendulum set behind glass within a roughly triangular frame is attached underneath. Total length, 28". The clock required manual winding once a week, with the two holes visible in the clock face, both requiring winding. The clock chimed half-hourly.
This was the standard clock to be found in all rural primary schools, from around the end of the 19th century up to the 1950s.
This particular clock was in use in Lisduff School up to the early 1950s. Donated by Joe Quinn, son of the late Frank Quinn, former principal of the school.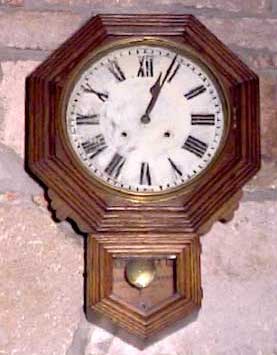 Find out more about Kiltimagh Railway Museum
Kiltimagh Railway Museum
Kiltimagh
County Mayo
+ 353 (0)86 101 1388
solanb@gofree.indigo.ie
Sneak Peek
Some interesting items can be viewed here
You may also be interested in...