Olympic Crest - Suantas Oilimpiache 1924
White cotton crest, 6" x 7," with green Inscription, Olympic Games, 1924, and central design featuring three shamrocks.
Crest, originally attached to front of a blazer, and identified wearer as a member of Olympic Team.
Worn by Sean Lavan of Kiltimagh, Athletics competitor on first Irish Olympic Team in 1924.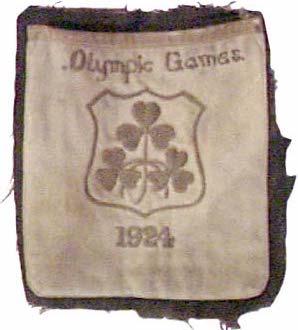 Find out more about Kiltimagh Railway Museum
Kiltimagh Railway Museum
Kiltimagh
County Mayo
+ 353 (0)86 101 1388
solanb@gofree.indigo.ie
Sneak Peek
Some interesting items can be viewed here
You may also be interested in...