Clay Pipe - dúidin/dúidiní
Short, (6'') pipe, with inscription, 'Murphy's' and trademark etched on top.
Clay pipes/duidini were essential items, together with barrels of porter, in Irish 'wakes', where they were smoked by one and all. From the quantity ordered for this purpose it would seem that they were only used once and discarded.
The name, 'Murphy's,' on the pipe was that of the funeral undertaker and so the inscription doubled as an advertisement. Brendan O'Shea found this pipe in his garage and donated it to the Museum in 2004.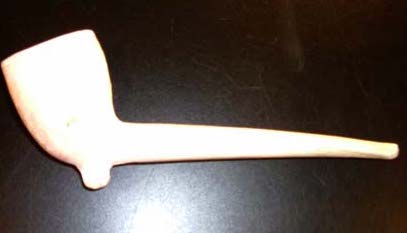 Find out more about Kiltimagh Railway Museum
Kiltimagh Railway Museum
Kiltimagh
County Mayo
+ 353 (0)86 101 1388
solanb@gofree.indigo.ie
Sneak Peek
Some interesting items can be viewed here
You may also be interested in...