Navy blue hat with the crest of the NYPD and navy badge bearing similar crest.
Both items part of the uniform which identified NYPD Chief Patrick Dermot Brennan. Because of lack of opportunities here Dermot, like so many others in the fifties, was forced to emigrate.
His particular success in establishing his special niche in the NYPD was the result of self belief, hard work and commitment to fighting crime on the streets of NY and thus represent something of the positive aspect of the disease of economic emigration which for centuries devastated parishes such as ours.
His widow, Mrs. Monica Brennan, donated Dermot's hat and badge to the Museum.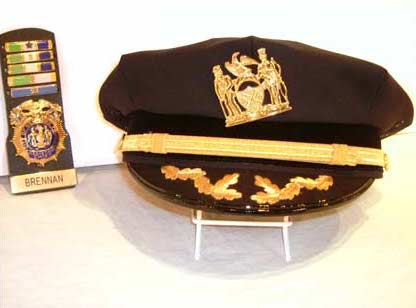 Find out more about Kiltimagh Railway Museum
Kiltimagh Railway Museum
Kiltimagh
County Mayo
+ 353 (0)86 101 1388
solanb@gofree.indigo.ie
Sneak Peek
Some interesting items can be viewed here
You may also be interested in...