Sculpture of the Station Master
Copper, life-sized sculpture of a Station Master uniformed figure, consulting the watch held in his right hand to check the arrival time of the incoming train Height, 5' 3"
Representation of Station Master (Maistir Staisiuin) commemorates the Railway Station here up to the 1970s.
The figure was sculpted by Vincent Brown as his contribution to a Sculpture Symposium in Kiltimagh in 1993.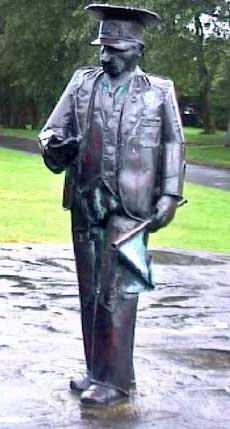 Find out more about Kiltimagh Railway Museum
Kiltimagh Railway Museum
Kiltimagh
County Mayo
+ 353 (0)86 101 1388
solanb@gofree.indigo.ie
Sneak Peek
Some interesting items can be viewed here
You may also be interested in...