Wooden 'Trap' - Gaisde Adhmaid
Horse-drawn vehicle consisting of wooden cabin, 48" wide, with leather upholstery and back door set on two large wooden wheels, 45" high, covered with iron rim to deaden sound. Iron step at the back, to facilitate entry and two long, wooden shafts in front. 6' long, within which horses were harnessed.
Standard mode of transport among the more affluent in rural Ireland.
This 'trap' was made by Kevilles of Balla, probably in the 1930s, and purchased by Maggie (McNicholas's) family in Bohola, who sold it to Luke Shannon of Treenabontery, for £100. Purchased by Historical Society from Mr. Shannon for the same figure, (less £20- 'luck' money) in May, 1989.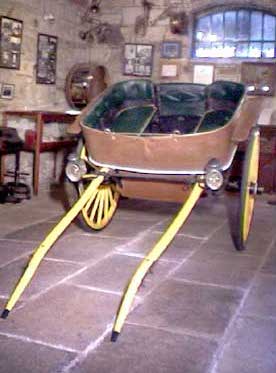 Find out more about Kiltimagh Railway Museum
Kiltimagh Railway Museum
Kiltimagh
County Mayo
+ 353 (0)86 101 1388
solanb@gofree.indigo.ie
Sneak Peek
Some interesting items can be viewed here
You may also be interested in...