Ration Book-Leabhar Ciondala Generalta
Pink covered book, 51/2" x 4," No. 1394, with Official Crest and inscription, 'Diolta go hOifigiuil, Official Paid,' and Harp on front. Title, 'Leabhar Ciondala Generalta, General Ration Book, 1948,' on front, and name of person to whom issued: Michael Glynn, Canbrack, Kiltimagh. Ration coupons on internal pages.
Rationing of food and clothing was introduced in Ireland during WW2 and continued for some years afterwards. Coupons enabled purchase of stipulated amount of either groceries or clothing.
Used by Glynn family, Kiltimagh.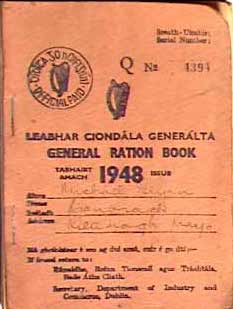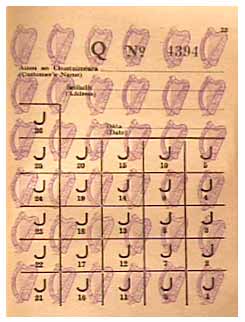 Find out more about Kiltimagh Railway Museum
Kiltimagh Railway Museum
Kiltimagh
County Mayo
+ 353 (0)86 101 1388
solanb@gofree.indigo.ie
Sneak Peek
Some interesting items can be viewed here
You may also be interested in...