Stone base, 36" high, by 14" wide, with bronze circular face, 14" in diameter, set on top, with shaft, called a 'gnoman,' 7" long, running diametrically across the face. The movement of the sun, filtered by the bronze gnoman in the centre, indicates the time of day, actual day and month.
Sundials are instruments which show the time of day by means of the shadow of the sun projected on a graduated plate by a gnoman or style. Sundials preceded calendars and clocks.
This particular specimen was originally owned by the local landlord, members of the Ormsby family, and was situated in the front garden of their estate. Ownership of the estate, and with it the sundial, passed to the St. John of God Sisters in 1938 who passed it on to Western Care Association in the 1960s. At present it is on permanent loan to the Museum from Western Care Association.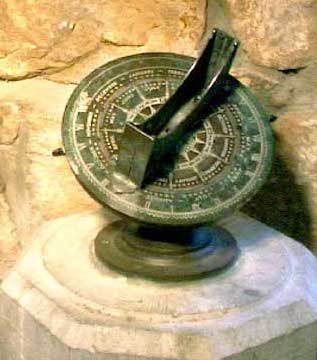 Find out more about Kiltimagh Railway Museum
Kiltimagh Railway Museum
Kiltimagh
County Mayo
+ 353 (0)86 101 1388
solanb@gofree.indigo.ie
Sneak Peek
Some interesting items can be viewed here
You may also be interested in...