Pen & ink sketch on white paper background, 10" x 7," of Raftery, with his fiddle and walking stick.
Artist's impression of early 19th century poet, Anthony Raftery, executed by Donal MacPolin in 1995.
Sketch commissioned for Parish History, Kiltimagh, Our Life & Times.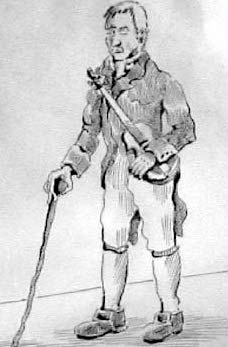 Find out more about Kiltimagh Railway Museum
Kiltimagh Railway Museum
Kiltimagh
County Mayo
+ 353 (0)86 101 1388
solanb@gofree.indigo.ie
Sneak Peek
Some interesting items can be viewed here
You may also be interested in...