Pond's Face Powder, in green, square cardboard carton with white lettering, 2" x 2".
Carnate Nail Polish paste, in round glass container, 11/2" wide:
Tokalon Rouge, in cherry square cardboard carton with gold, circular design: 11/2" x 1!/2" &
Tokalon lipstick in plastic tube, 11/2" long
Beauty products dated from 1930s
Used by the late Mary Symes of Spencer Park, Castlebar.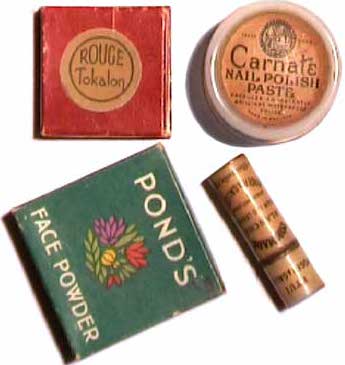 Find out more about Kiltimagh Railway Museum
Kiltimagh Railway Museum
Kiltimagh
County Mayo
+ 353 (0)86 101 1388
solanb@gofree.indigo.ie
Sneak Peek
Some interesting items can be viewed here
You may also be interested in...