Bicycle Permit - Ceadunas Rothair
Oglaigh na hEireann paper Permit, 61/2" x 5," dated 11/10/1922, authorizing Patrick Martin John McDonagh to ride a bicycle for a period of one month from 11/10/22, between Kiltimagh and Swinford, during Civil War, in 1922, signed by local Captain, Jack Benson.
Permit needed to be renewed on a monthly basis to enable cyclist to travel within the area without harassment from Free State Forces.
Mr. McDonagh operated a business outside Kiltimagh and needed to be able to transport goods between the two towns, hence the need for the permit.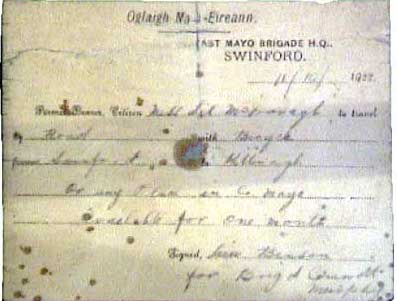 Find out more about Kiltimagh Railway Museum
Kiltimagh Railway Museum
Kiltimagh
County Mayo
+ 353 (0)86 101 1388
solanb@gofree.indigo.ie
Sneak Peek
Some interesting items can be viewed here
You may also be interested in...